Renegade Paint Co. is a business from Morden, MB specializing in exterior painting, interior painting and epoxy floors. Let's be honest, when you think of painting businesses you don't really associate them with cool branding that has any sort of "wow factor". So when it came time for Renegade to brand their company, they knew that they needed to stand out in their field and have a look that was going to turn heads and be instantly memorable. Luckily, they came to us. They reached out to have us create a full brand kit, vehicle wrap and clothing to get them started down the right path.
Project:
Brand Kit
With a name like Renegade, we knew that we had to hit this one hard. So we started with a heavy and bold military inspired type pairing to get the overall vibe started. Next was a custom illustration of a hand and brush based off of a photo of Renegade's owner, Chris. And to bring it all together, the shield and wings were added to prodvide a sense of authority and confidence.
Renegade Paint Co
Brand Kit
Project:
Vehicle Wrap
We are all big motorsports nerds here at Rogue Lab, and one of our favorite types of design to drool over is race car livery. Thats the approach we took here. With the bright, bold colors, the premier Renegade branding and the door logos, this thing screams race car. No detail was left out either, we even took care of the minor details of the truck like the mirrors and the chevy bowtie to make a nice flow from front to back. This truck is visually very loud and turns heads everywhere it goes, which has turned into plenty of new work for the Renegade crew. Not a bad investment.
Project:
Clothing and Merch
When it came to this part of the project, Chris wanted himslef and his crew to stand out just as much as his truck. He wanted shirts to wear on site, as well as some cool stickers to hand out to clients and friends. So he gave us the freedom to come up with whatever we though was cool, and we thought the coolest thing would be to come up with even more graphics to round out this brand kit.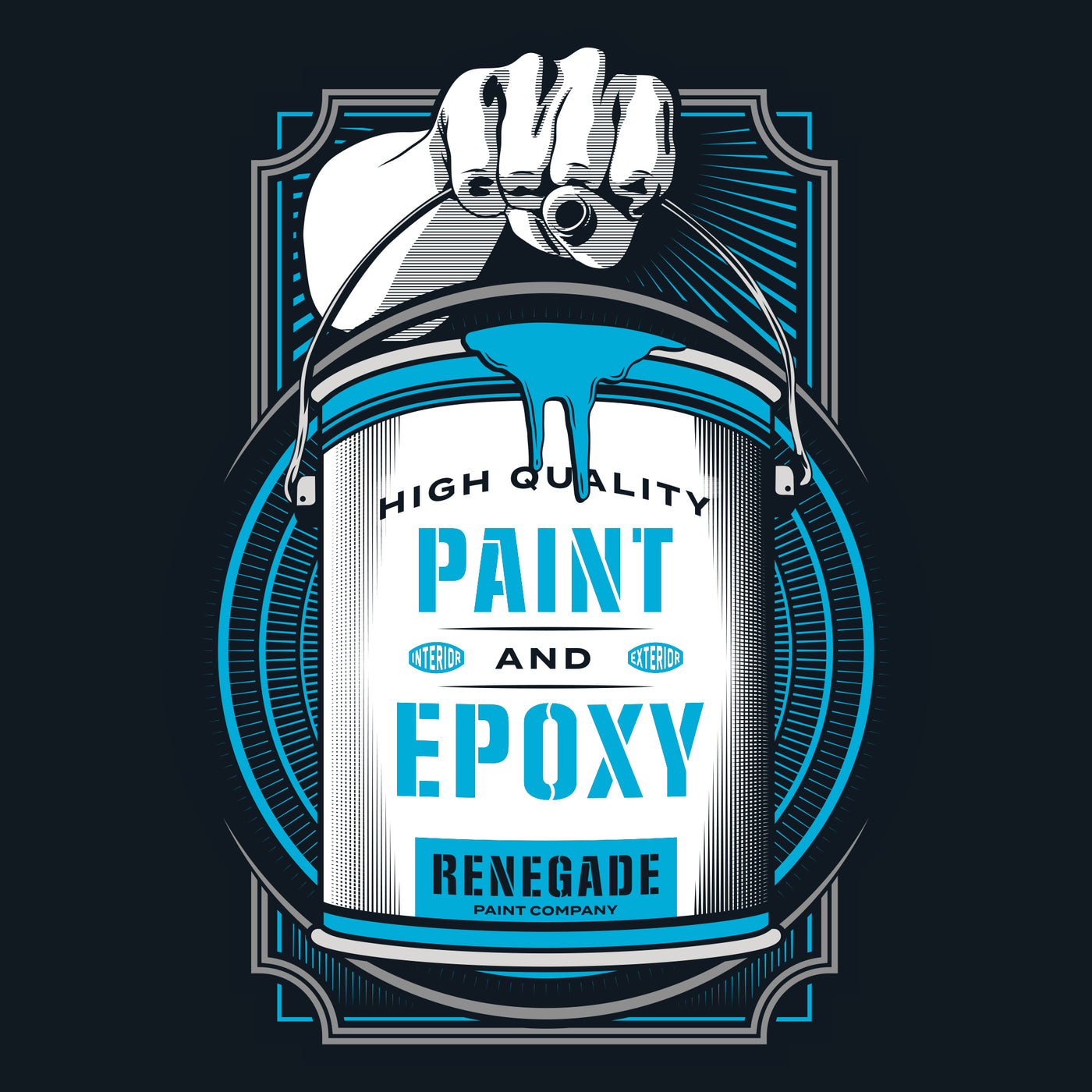 Merchandise Graphic
Paint Bucket
Chris has always allowed us to have a lot of fun with his designs and is really open to things that aren't typical in his industry. This paint bucket graphic is prime example, how many paint companies use merch graphics like this? This is how to stand out from the next guy.
Merchandise Graphic
Paint Bucket
We always design our graphics with both full colour and single colour versions. Of course we want to print full colour as much as we can but that's not always an option, like when you're going to be getting paint all over your branded shirts every day and want to keep the costs down. Thankfully this looks great as a single colour piece and made some killer shirts.
New Designs Created out of
Necessity
Renegade Paint Co needed some stickers but their brush logo was going to cause some issues.
There were way too many points and details in the tip of the brush for a clean die-cut sticker. While this is doable for our equipment, this many points would cause the stickers to peel or tear easily.
We tried simplifying these points but this caused the brush to lose it's character and style.
Brand Kit Extended with a new
Sticker Badge
So we found a different solution. We placed the whole design in a bigger crest shape and paired it up with the existing logotype.
Now we have a simple die-cut shape and Renegade Paint Company has another brand asset that they can use in various applications!
Interested in branding yourself like this?
Let's Work Together
Stay up to date
Blog posts